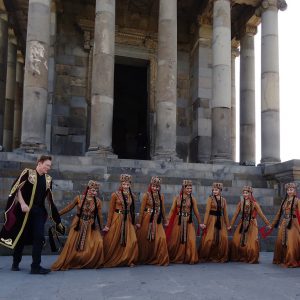 A Ana é de Portugal e fez um Training Course na Arménia. Esta é a partilha da sua experiência!
PT: A formação "Conflict resolution in Intercultural Perspective" foi muito útil e interessante porque os participantes foram capaz de discutir ideias, desafios e soluções possíveis para a resolução de conflitos num ambiente multidisciplinar
e multicultural. De facto, 10 países foram representados e várias actividades foram realizadas com base nas contribuições dos participantes e facilitadores. Como trabalho em empresas internacionais, estou contente de que me tenha sido oferecida esta oportunidade de participar e contribuir activamente neste training course não-formal. Aprendi muito e estoua aplicar os conhecimentos colhidos na área profissional e também pessoal.
ENG: The "Conflict Resolution in Intercultural Perspective" course was extremely useful and interesting because participants were able to discuss ideas, challenges and potential solutions to conflict resolution in a multidisciplinary and multicultural environment. In fact, 10 dissimilar countries were represented, and numerous activities were performed based on both participants and facilitators' inputs. As I work in international companies, I'm glad that I was given the opportunity to participate and actively contribute to this non-formal training course. I learned a lot and I'm applying the gathered knowledge in both personal and professional fields.