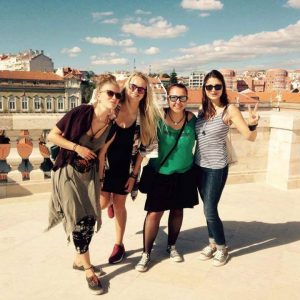 A Dilyana veio da Bulgária e realizou um SVE em Lisboa em Portugal connosco na Mais Cidadania durante 6 meses. Esta é a partilha da sua experiência!
Hello, I'm Dilyana from Varna, Bulgaria. I am a volunteer in European NGO Mais Cidadania in Lisbon, Portugal. I work in a communication department and my tasks are about promoting the activities of the organisation. I also participate in some school workshops in which we explain to the kids what means to be European citizen.
I am almost in the end of my project as an EVS volunteer. But before to apply for this project in Portugal I was supervisor of EVS volunteers in Bulgaria. (This is a bit unusual, since in most of the cases the EVS volunteers become workers in the fields of the European Voluntary Service or the Erasmus + programme after the ending of that foreign experience as volunteers). First I started with local volunteering, after I coordinated volunteers and then I worked on projects about volunteering on an European level. I have never been a European volunteer before, so it was fair enough catching this opportunity. EVS is my next step to grow up professionally and I'm really glad to be part of it.
To being in the opposite side of one project is much more interesting about this peculiar experience. Why I choose to become an EVS volunteer in Lisbon after some years of practice as coworker for a sending-hosting organization?
I learnt a lot of things concerning myself, my friends and my family and the other people as well. I learnt very good lessons regarding my professional and private life. I am that kind of person who always tries to improve herself, so being part of this new culture, meeting new people every day, travelling around and making new friendships make me rich as a person. I have already got some experiences abroad and I don't think to stop.
I feel very useful since my tasks are really various – promotion of Erasmus + programme, writing articles, making photos, organizing events, promoting of EVS in schools. The last two events that work hard on it was a project called "Biblioteca Viva" – a method to break the stereotypes of the society about the others and Open Day of Mais Cidadania, where present our activities and had a lot of fun.
But EVS is not only my tasks at work as my project is my life here in Portugal. Everything in my daily life, everything I'm doing is part of this non-stop learning process.
I'm in love with Lisbon! This is a city which never sleeps and always changes. The people are so nice and they always kiss you (which was weird for me at the beginning 😀 ), always something somewhere happens – cultural, musical events. I went to one of the best trance music festival in Europe – Boom. For me Portugal is the place when my dreams came true. I tried to not have big expectations, but to be honest I had. Now i feel a little bit of Saudade, but this is the life!
Well, it's time for a new page in my life! I plan to continue with the projects for volunteering and to inspire more young people to take part in it. I also have a NGO and I wanna be more focused on the cultural and environmental projects. Next year Varna will become the European Youth Capital, so I have a lot of ideas and things to do. For the 2018 I don't know yet, but this world have a lot of places and cultures which i missed or I never saw. So…
Let's finish my story with a funny, awkward and messy experience that i faced during my EVS experience!
(Haha, since I'm here I didn't got drunk so many time, so I can not share shame story for the Portuguese wine. By the way the wine is really, really good and cheap! My favorite is Vino Verde!)
The first week something weird happened to me everyday. My shoes broke on the street and the next day I broke my cell phone as well; i've got lost and sick, I cracked a mirror and so on. It was funny, because in the end of all of this "bad" luck I finished at an amazing party with one of my favourites Dj's ever, meeting a bunch of very nice people that became my friends. I was so happy at that moment I will never forget it.
I will never forget how Portugal has changed my life, my opinion about many things and my point of views and perspectives concerning the life. I have to say thank to all of these people – no matter if good or bad – who helped me in this growing up process!